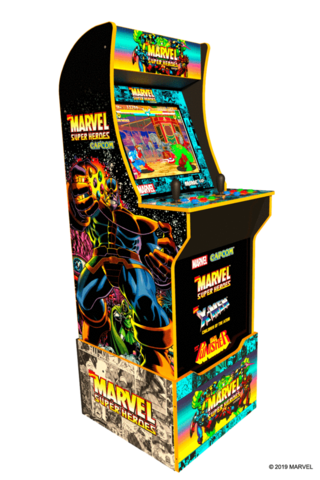 New Limited Edition Marvel Super Heroes Arcade with Riser - only 8000 pieces made to commemorate Marvel's 80th Anniversary!
We're coming to you live from 1995 with this limited edition Marvel Super Heroes fighting game, where you can control your favorite superheroes from the Marvel Universe, battle villains for Infinity Gems, and try to save the universe from Thanos.
Ships to US and Canada only, while supplies last!
Games Included:

Features:
Light-up marquee (not shown)
Sanwa joysticks and buttons (not shown)
Dual Speakers
Riser with exclusive artwork
Custom cabinet trim
Marvel certificate of authenticity (not shown)
3 games in 1
Specifications:
Machine Dimensions: 45.8" H (57.8" H w/ riser) x 22.75" D x 19" W
Custom Riser included