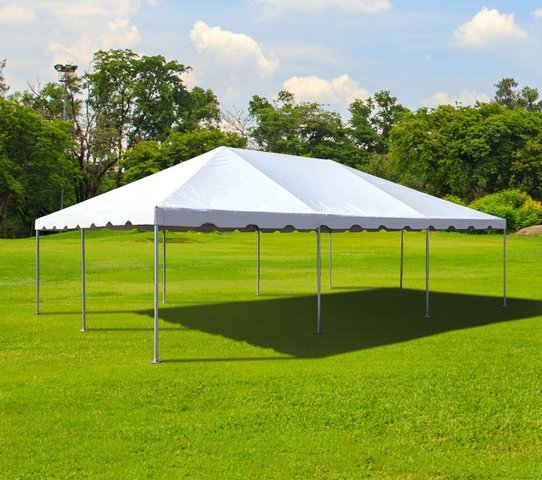 20 x 30 Frame Tent Pkg#4 Black Chairs
20x30 Frame Tent Package#4
*Best suited for driveway installations or tight spaces however can be installed on grass as well!*
Please note we stake our tents where possible and use water barrels to anchor. Customer needs to supply hose and water source if needed. Price includes setup and take down of tent. Tables and chairs stacked and delivered near or under tent.
Package Contents
20 X 30 Frame Tent
(6) 60" Round Tables
(48) Black Chairs
(Upgrade to white chairs $.50 each chair)
Our 20' x 30' Frame Tent Package Is our most popular tent, this stylish, sleek Frame Tent doesn't need to be set up on grass. It can be set up on a driveway, a parking lot or on other asphalt surfaces using various anchoring methods making it one of our most universal tents. Simple and elegant make them ideal for outdoor events such as weddings, receptions, graduations, and other events that need to accommodate a large number of guests. In addition to their aesthetic appeal they have no center pole or obstructions that touch the ground in the center of the tent, instead utilizing a cross cable above designed to optimize room for accommodating guests or equipment.
** Tents are typically set up a one to two days prior to your event. Take down is typically one to two days after your event, tables and chairs need to be stacked the way they were delivered by 9 am the day after your event to avoid a $50 break down fee.