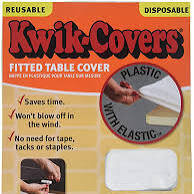 6ft Table Kwik Covers
Introducing the 6ft Table Kwik Covers - the perfect solution for those looking to quickly and easily dress up their tables for any event or occasion. Made from durable and high-quality plastic, these covers are designed to fit snugly over any 6ft table, providing a clean and polished look that is sure to impress.
With their elastic edges, the Kwik Covers are a breeze to install and remove, making them an ideal choice for busy event planners, caterers, and party hosts. They are also disposable, making cleanup a snap - simply remove and dispose of the cover when the event is over.
Available in a variety of colors to match any theme or decor, the 6ft Table Kwik Covers are a must-have for any event where presentation matters. Whether you're hosting a wedding, birthday party, corporate event, or any other gathering, these covers are sure to add a touch of elegance and sophistication to your tables.