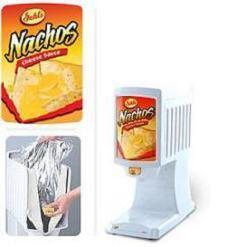 Nacho Cheese Warmer
Nacho Cheese Warmer comes with enough cheese for 80 plus servings, additonal bags can be purchased.
Introducing our Nacho Cheese Warmer, the perfect addition to any party or event! This high-quality warmer is designed to keep your nacho cheese hot and delicious, so you can enjoy a tasty snack whenever you want.
Made from durable materials, this nacho cheese warmer is built to last and is easy to use. Simply fill the warmer with your favorite nacho cheese, turn it on, and let it do the rest. The adjustable temperature control allows you to customize the heat level to your liking, while the clear lid lets you see the cheese as it melts and heats up.
Whether you're hosting a movie night at home, a game day party, or a fundraising event, our Nacho Cheese Warmer is the perfect way to keep your guests fed and happy. So why wait? Order yours today and start enjoying delicious, hot nacho cheese in no time! Comes with one bag of cheese enough for 80 servings you can always order more at check out as well. Thank you.